Is the Banking Crisis Unfairly Damaging Your Credit Rating?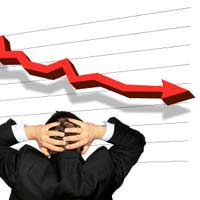 If you are looking to obtain a mortgage, personal loan or credit card, you may find that your credit rating is not as perfect as it used to be.
How the Credit Crunch is Affecting Borrowers
Many people are being refused credit or offered higher repayment terms than expected. So, after the credit crunch and the part-nationalisation of so many banks, how are borrowers being unfairly penalised?
Potential borrowers are facing far more stringent credit checks as beleaguered banks and other lenders try to balance their books and keep the risk of repayment default down to a minimum.
Lenders Changing Credit Scoring Criteria
Lenders are canny enough not to discourage all potential customers by making their tighter lending practices public, but they are free to make subtle changes to how they assess credit scores in order to 'thin out' the number of successful applications.
The knock-on effect for borrowers is limited access to credit for first-time buyers, homeowners trapped with a high mortgage rate and looking to remortgage and consumers looking for personal loans or 0% credit cards to help refinance or consolidate their debts.
A lack of lending could lead some people struggling with their finances into more serious difficulties. So what factors are the lenders looking at when they view your credit rating?
Credit Cards Lenders Now Stricter
Remember the days when credit card companies would send you endless letters informing you that you were 'pre-approved' for one of their cards? Well those days are now long gone.
After the 'credit crunch' lenders are taking a closer look at the credit histories of would-be borrowers, and previous indiscretions are now being viewed with greater suspicion. Minor slips, such as missing a payment on a mobile phone account, are now being marked against more heavily.
The recession is expected to cause unemployment to rise and more companies going insolvent. As a result of more people expected to be in financial difficulties, lenders are looking for 'early warning signals' of borrowers they believe have too much credit already and may not be able to repay their debt in future.
This includes looking more frequently at whether borrowers repay just the minimum payments on credit cards, instead of paying off the balance in full each month.
Mortgage Applications Under Closest Scrutiny
With interest rates at a record low, you might be thinking about dipping a toe back into the property market. Unfortunately, mortgage applicants, first-time buyers especially, are still finding mortgage lenders unwilling to play ball.
Banks are scoring mortgage applications hardest, unsurprising given that mortgage debts are the largest forms of credit accumulated by most of us. First-time borrowers looking to take out mortgages with higher loan-to-values (the amount of the loan as a percentage of the total cost of the property), will find that their credit score will need to be spotless in order to be accepted.
How Can You Keep your Credit Score in Best Shape?
Even if banks are being less than helpful with their lending criteria, there are steps you can take to make sure that once the credit crunch is over, you will be in good position to borrow the money you want.
1. Be Sensible with your Credit
Banks get nervous if they see a potential customer who is always at the top of their credit limit. Try to lower the amounts of credit you owe on credit cards and aim to have borrowings of around 25% of your total available credit limit.
2. Avoid Making Too Many Applications
It's all too tempting to make an application for credit, get refused and then apply for the next best offer. This type of approach rarely works as credit scores are not only based on existing credit, but also based on how many credit applications have been made. Those people with the best credit ratings apply for credit on average less than twice a year.
3. Check your Credit Report Regularly
Sometimes ignorance isn't bliss. It is always better to be aware of the details contained in your report, especially if you are planning on making a future application. Better to spot any unwanted blemishes on your report before you apply, so that you stand a better chance of correctly them.
You might also like...