I Was Chased for Friend's Debt: A Case Study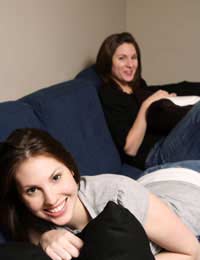 One of the most common reasons for mistakes on a person's personal credit report is because they are still being chased for friend's debts, often without them knowing.
Finding it Hard to Get a Loan
Jill had just left university and was thinking about taking out a loan to buy a new car. She didn't think she had any blips on her credit history and was confident getting a small loan would not be a problem.
"When I applied for a loan they took all my details from me such as where I lived and what my income was, however they said I did not have a very good credit rating and they were unable to give me a loan," says Jill.
"I expected my credit rating to be a little shoddy because I had missed a couple of credit card payments, but I didn't think it would be that bad. I decided to get a copy of my credit report to investigate," explains Jill.
Checking Your Credit Report
Once Jill had a copy of her report she was able to see where the problem rested. When Jill shared a house at University she shared with her friend Abi, they had put everything in both of their names such as the gas and electricity bill.
"We had always both paid the bills, but before I left the house we were sharing we agreed that she would finish paying the gas bill and since then I had just forgotten about it. On the credit report it showed up as being a mark against my name," says Jill.
Jill contacted the gas company and they told her the bill had not been paid, although it was just a small bill it had been a few months since a payment had been made, so it looked very bad on Jill's file.
Getting the Problem Fixed
"When I phoned Abi to see if she had paid the bill she was not very helpful and tried to avoid my calls. I guessed that she had no money to pay the bill and it was going to be left up to me to pay it off. I immediately contacted the gas provider and paid off the bill, we were in the red with the company and they had been trying to contact one of us for quite some time," says Jill.
Because it had been an unpaid bill Jill found it was hard to get removed from her credit report. She closed down the account with the gas company and another joint account that she has with her friend Abi. She also requested a disassociation request for her credit report which meant all ties with her friend would be removed.
Jill was also able to put a note on her credit report explaining the situation but it was a couple of years before her credit report was looking healthy again.
"I was quite annoyed and upset about what had happened. I don't think Abi realised that she had ruined my chances of getting credit in future. I don't think I will be taking out any joint accounts with friends in future or sharing liability for any of the bills I have to pay," says Jill.
When taking out a joint account or sharing bills with friends it is important to keep track not just of what you are paying but what your friend is paying as well. You should also make sure you trust your friend with your finances. Friendships can be strained when it comes to finances and you don't want to ruin one by disagreements over money.
You might also like...