Hidden Credit Card Charges Revealed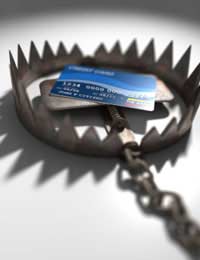 Using credit cards for big purchases can be convenient and safe, especially if you need a refund or if something goes wrong with your purchase. Increasingly, however, the peace of mind that comes with your plastic is also coming with hidden costs.
A number of different retailers are charging their customers for using their credit cards to make payments and these additional surcharges can add significantly to the total costs a customer pays.
Travel Firms are the Worst for Sneaky Charges
Such surcharges are most common in the travel industry. Airlines, train companies, tour operators and travel agents are all increasingly likely to pile on additional extra fees if the customer expects to use a credit or debit card. These companies often claim that credit card payments cost them more to process, so they are within their rights to pass on these additional costs to the consumers who use credit cards, in order to keep the cost of their services as low as possible.
Take airline tickets for example. The budget travel company Monarch Airlines asks customers to pay an additional 5% surcharge on payments made with their credit cards and a 3.5% charge on customers paying by debit card.
Sometimes the charges come in the shape of 'processing fees', a £2.00 train ticket from trainline.com purchased by credit card carries with it a rather hefty £3.50 credit card processing fee.
Of course these charges are usually hidden, and are usually only revealed when you reach the checkout. Some customers may decide at this point not to proceed with the transaction, but it is usually easier to simply bear the additional costs. After all, if you have just found the perfect hotel and the last two tickets on the flight of your choice, what harm will a few more pounds added on to the bill do?
Is it the Fault of the Banks?
Companies often like to blame the banks for the additional charges to process transactions. Banks make money from retailers by charging them a "merchant fee" for processing all debit and credit card payments.
Blaming the banks might be the easy – and popular – option but isn't correct in this case. In fact, banks typically charge only 10p per credit card transaction. The companies are racking up healthy profits over and above the payments they have to give the bank for each transaction.
Avoiding the Hidden Charges
Of course one of the simplest ways to avoid exorbitant processing or surcharge fees for using your credit card is to use a debit card or even a pre-paid card instead.
Most companies have a 'free payment' option, which they like to mention should customers complain about hidden charges. Ryanair, which is notorious for its hidden charges and credit card processing fees of £5 for each flight, doesn't charge its customers if they use a pre-paid Mastercard.
The budget airlines BMI Baby, Easyjet and even travel firm Thomson do not charge a processing fee if the customer uses a Visa Electron card.
Unfortunately, the free payment option varies from company to company, so there really is no substitute for reading the terms and conditions that go along with your purchase and always try to have an alternative method of paying that means you can beat the rip-off companies at their own game.
You might also like...