Avoid Delayed Charges Damaging Your Credit Rating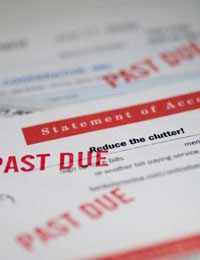 Do you consider yourself as having a 'squeaky clean' credit rating? Never go beyond the limit on your credit card and always pay your bill on time? Well you may be surprised to learn that despite your best intentions you may still find yourself in trouble with your credit card companies. I know, because it happened to me.
Recently I received a letter from a credit card company, in which they informed me that I had not paid my last bill and that I needed to settle the bill immediately.
This was a credit card that I rarely, if ever use, so my first thought was to contact the credit card company to find out what was going on. The card issuer informed me that I had been charged £6.80 by an airline in August and because I had failed to pay my outstanding balance in September, I had been charged £12 for late payment.
The £6.80 charge came as a surprise, because I travelled with the airline back in February and used that card to pay for food and a couple of duty free purchases at the airport.
An Unusually Long Transaction Period
I paid my credit card bill in full in March, so I had assumed that no further transactions would have been made on my card. What I hadn't taken into account would be that one credit card transaction, for a bite to eat on the flight home, would take several months before appearing on my statement. As I signed up for paperless credit card bills, I hadn't bothered to check my online credit balance in a while.
I pointed out to the credit card company that I hadn't made any transactions on my card in August, which is why I didn't think I had an outstanding bill to pay in September. The card company told me that the transaction itself was correct, but it seemed that the airline had not put the charge on my card through until August, a full six months after the transaction was made.
Can Retailers Delay Processing Payments?
I asked whether it was legal for the airline to do this, and I was surprised to find that the answer was yes. According to the payment services company UK Payments, there is absolutely no set time limit in which a merchant can take a payment from a customer's credit card.
Banking regulations make it clear that when you make a purchase on your credit card the bit of plastic you use to get the transaction approved is really just an IOU, that means you are expected to honour the transaction at a later date.
Retailer Discretion
The timeframe of when the transaction itself will appear on your bill can depend on how often the retailer conducts credit card transactions and the rules and regulations set out by the credit card issuer itself. Issuers and retailers are free to use their own discretion as they are not making unauthorised payments on a credit card, they are simply being slow in collected what is an already agreed payment.
For example, Visa, the largest credit card company in the world, says that it encourages retailers to process any outstanding credit card transactions within 30 days. Overseas transactions can, they say, take an additional 180 days to process.
I was fortunate that, given the amount was relatively small, my credit card company accepted the reasons for my late payment, and eventually waived the late payment charge. I also made sure that the late payment wouldn't be noted on my credit file. The lesson was clear though, if you wish to avoid getting a bad reputation with your credit card company, be on the look out for any delayed transactions that take a while to be processed.
It is also a sensible precaution to set up a 'minimum payment' or payment in full that can be taken automatically from your account.
You might also like...