Getting a Credit Card with Bad Credit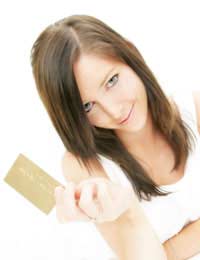 Personal debt in the UK has hit an all-time high, which means that we depend on the ability to borrow to get through day-to-day life.
This is why it is important to understand what a credit rating is, because it can affect your ability to get that all important loan or credit card.
Your credit rating is made up of your financial history, which is stored in a report held by credit reference agencies.
The information held on your credit report and whatever information you may provide on an application for credit, is what is used by lenders to used to calculate your credit score. This score is then used to identify the risk of offering you credit.
You do not have a single credit score or rating. Each lender will use a different system for calculating your score. Equally, these lenders do not have to tell you how they calculated your score, however, you can ask for a simple explanation of how it works and why you have been refused credit.
To have a high credit rating you will probably have a score between 880 - 1000, giving you the best chance to borrow from high street lenders.
If you score between 111 - 879 you could potentially have problems borrowing money. This is highly dependent on how much you want borrow and what type of credit you require. A bad, or low, credit score would probably score between 0 -110, which basically means you will have trouble borrowing from high street lenders. The best thing to do in these circumstances is speak to a specialist lender that deals with riskier borrowers.
With a good credit rating you will have access to a range of best-buy credit cards with good rates of interest. However, if your rating isn't good the choice of products you have to choose from will be limited and often come with high interest rates.
There are cards available specifically aimed at those with a bad credit history. These credit cards do not have attractive rates or features, such as cashback rewards, like other cards do. Although, for those borrowing in order to sort out current credit problems, these types of cards can help providing the borrower is responsible.
For those that don't want to go down this route, there are some simple things to do to help improve your credit rating.
Reconsider Your Need to Borrow
If you have experienced debt problems recently or have had trouble making payments in the past, your credit score will be low and lenders will regard you as high risk. If this is the reason as to why you have been refused credit, then the best thing for you to do would be to seek advice from a debt charity, such as the Consumer Credit Counselling Service. However, remember that you should NEVER pay for debt counselling.
Check Your Credit File
If you can't think of a reason why you have been refused credit, your first task should be to check your credit report. There are three major credit reference agencies in the UK - Experian, Equifax and Callcredit - who keep records on all your bank accounts, credit cards, previous loans and debt history.
Start by asking each agency for a copy of your file, each of them is likely to hold slightly different information about your financial history.
You can order a paper version for as little as £2, or you have the option to subscribe to each of their online services, which are a little more expensive.
Once you have the reports, go through each of them and look for any errors. Even something small like the wrong flat number or postcode could mean that your credit record is being mixed up with someone else's.
If the mistake is concerning an outstanding debt that you disagree with then you might have to take it up with the lender in question because the credit reference agency isn't likely to change your record without confirmation that the debt has been paid off.
You also have the option to add your own comments to your report. So, for instance, if you had trouble paying off a debt and missed a few payments due t unemployment or illness, then you have the chance to explain it.
Do Your Research Before Asking for a Loan
It is worth having a look at a lender's criteria for lending before you apply to them. Some lenders have a policy of never lending to those with a CCJ, whereas others do lend to default borrowers, but charge them more.
Curb Your Applications
Once you have decided what type of credit you need, don't just start applying to every lender in the hope that one of them will say yes.
Each time you make an application a lender carries out a search of your credit history and leaves 'footprints' on your report which other lenders can see.
The problem with this is multiple searches indicate multiple refusals to other lenders and this will harm your credit score.
Don't be Afraid to Ask Why
If you have been turned down, you have the right to appeal to the lender's decision. So, if you filled out a application online and were refused, then pop in to your local branch and ask them to take another look, it might be that you can give them some extra information that would make them change their mind.
You might also like...