Take Our Credit Rating Questionnaire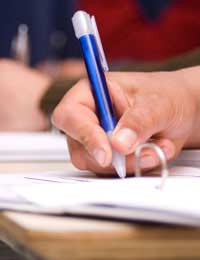 Banks and other lenders use credit ratings to assess the credit history of potential or existing customers, and they take a number of different factors into account when deciding whether to refuse or accept an application.
But how can you find out your chances of getting your application for credit approved?
Take our credit rating questionnaire and find out whether banks and other lenders view you as a good potential customer for credit or not.
1. How old are you?
(a) 18 - 35 years old
(b) 35 – 55 years old
(c) 55 – 70 years old
2. Are you…
(a) A homeowner?
(b) Renting?
(c) Living with parents or relatives?
3. How long have you been at your current address?
(a) More than 10 years
(b) More than 5 years
(c) Less than three years
4. Are you currently registered and eligible to vote?
(a) Yes, I am on the Electoral Register
(b) Not sure
(c) No, I am not on the Electoral Register
5. How many credit cards do you own?
(a) One or two
(b) None
(c) Three or more
6. Do you pay off your credit card balances in full each month?
(a) Always
(b) Usually
(c) Never, I only make the minimum repayments
7. Have you missed a mortgage, loan or credit card repayment in the last two years?
(a) Never
(b) Once or twice
(c) Three times or more
8. Have you applied for credit in the last six months?
(a) No
(b) Yes, between 1 and 3 times
(c) Yes, more than 3 times
9. Do you have any County Court Judgments or been declared bankrupt?
(a) None
(b) Yes, a CCJ
(c) Yes, been declared bankrupt
How Did You Answer?
Mostly (a)
There's a good chance that your credit rating will be very strong. People within this category usually have a good credit history behind them already, are considered young enough to repay a mortgage or other loan. People in this category are also on the electoral register, and have been living at the same address for many years, so lenders will feel confident that they will be able to keep up their repayments.
Mostly (b)
You may find that your credit score is not high enough for some lenders. This is because your credit history might contain a few grey areas that will be flagged up as warning signals, for example, if you are renting your property and you are not on the electoral register, the lender may consider this to be a risk. If you have a CCJ or have missed a few repayments, lenders will consider this a sign that you may continue in the same vein.
Mostly (c)
If you answered with mostly C's, there's a likelihood that any applications for credit you make will be rejected. Lenders take a very dim view of anyone who has failed to keep up their previous credit agreements, including missed payments, CCJs or bankruptcy. Lenders also are reluctant to extend credit to those approaching retirement age and may not be able to keep up their repayments. If you are not on the electoral register, or you have been living at your current address for less than three years, this will also have a negative impact on your credit rating.
Improving Your Score
Credit ratings change over time, so even if you answered mostly in the (a) categoryYou should continue to monitor your credit report and make sure that the information contained within it is accurate.
If you found that most of your answers fell within the (b) or (c) categories, don't be too despondent. With some hard work, patience and good money management you can repair your credit rating over time. Find out how in our 'ten ways to sharpen up your credit score' section.
You might also like...