What is a County Court Judgment?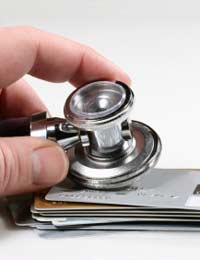 There are two main credit reference agencies in the UK Experian and Equifax. These agencies hold information such as, details of unpaid bills, county court judgements (CCJs) and any applications you may have made in the past for credit, which make up your credit history.
When you apply for credit, lenders use the records held by credit reference agencies to make a decision on how risky a borrower you are. The decision is based on the lender's own credit scoring system. Credit reference agencies don't score your 'worthiness' themselves and have no information on the criteria that lenders use.
Searching
Agencies hold a variety of different information on individuals. You must make sure you are listed on the electoral roll as this is used by the agencies and lenders to check that you really live at the address you claim. They also hold records of past searches made by lenders, but do not show whether applications were successful or not.
The problem here is simply that every time a search is made on your credit file, a footprint is left and too many footprints can also go against you when you apply for future credit. However, shopping around for credit cards should not be recorded on your file unless you sign a credit agreement.
If a lender does carry out a search and you didn't sign an agreement, you can apply to have the footprint removed by contacting each of the credit reference agencies. There are some things that aren't included on your credit report, such as council tax payments and student loans.
CCJs & Applications for Credit
Lenders definitely do not want to see any County Court Judgements (CCJs) that have been filed against you. Having one of these will usually result in you getting turned down for credit, as will a bankruptcy notice.
County Court judgments help in assessing the creditworthiness of individuals and businesses. Now banks, retailers, mail-order companies and loan companies use County Court judgments together with other data to evaluate credit applications.
Most businesses refer to County Court judgments before giving credit to customers. County Court judgments have become important for consumers too. A recent study showed that an increasing number of consumers are using debt to meet short-term needs. Consumers now understand that a good credit score / clean file increases the possibility of raising money from lenders.
County Court judgments or CCJ's refer to the judgment handed out by County Courts. The county courts resolve civil matters such as debt repayment; personal injury; breach of contract concerning goods or property; family issues and housing disputes.
The key issue relating to County Court judgments is registration; that is appearing on the Register of County Court Judgments. If an individual or a business settles the debt within a month of the judgment then the registration can be cancelled. A County Court judgment will also be set aside if it was 'incorrectly granted.' Otherwise, a County Court judgment will stay on the register for six years from the date of the judgment. If the debt is repaid after say two months, then the consumer can have the judgment marked 'satisfied' in the Register.
The appearance on a register of County Court judgments does not necessarily end chances of getting credit, but nor does it inspire confidence in lenders. Some credit repair companies offer various ways of cleaning up credit reference files, but history and common sense shows that nothing is as effective as making prompt payments.
You might also like...