Floating on the Alternative Investment Market (AIM)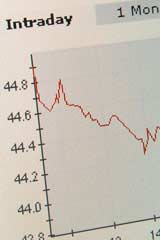 Any ambitious entrepreneur will want to float their company on a public stock exchange, perhaps as a way to raise money or maybe simply just a way to prove that the business has, so far, been a success.
The Alternative Investment Market (AIM) is the junior partner of the London Stock Exchange (LSE) that was set up 11 years ago and since then has raised more than £30 billion for the companies that are listed.
For a company, listing on an exchange such as AIM can act as a starting point for trading and can also provide an incentive for employees.
In order to list on the exchange you don't have to show any profits records and there is no minimum percentage of your company that will be reserved for outside investors.
Compared to the Official List, this is very attractive for young companies. The Official List requires so much more, such as a prospectus, a history of finances and detailed shares offer to mention a few.
This is also very costly because of the amount of research involved in producing the documentation. Floating on AIM, on the other hand, is a lot less costly because you only need to produce an AIM Admission Document.
Nomination Time
Another advantage to floating on AIM is that, instead of having to cover the costs of being vetted and the ongoing checking of the business and its finances, AIM appoints a Nominated Adviser (Nomad) who is responsible for all of this and is chosen by you.
Obviously, as well as the saving in cost, floating on AIM is a good way to reach individual investors, which in itself also has tax benefits.
For example, if you company should qualify for the Enterprise Investment Scheme, investors could get 20 per cent income tax relief on their initial investment and if they hold the shares for three years or more, they are exempt from capital gains tax when they sell.
The Process Of Floating
The first, and possible the most important thing of all, is that you must have a team that you are happy with. Being listed on AIM, or any other exchange, is a very big step and you will be spending a lot of time with those involved so it is important that you all get along and trust each others judgements.
You should probably start with your accountant, although if you have been set up for a while then you probably already have one you are happy with. Through your accountant you will be able to get information about others that could be involved.
This is probably the easiest way to assemble the team behind your company's task of floating on AIM. It is important at this stage that you enquire about contingency fees - many company's application to float on AIM get rejected for reasons that are out of anyone's control and having a contingency plan in place will make this much easier to deal with.
You should get in touch with your accountant at least six months before you submit your application to float - this way they will have enough time to look at your company's profit trends and determine when the best time to float is.
When assembling your board, you will need to find two non-executive directors. If you already have outside investment, say from a venture capitalist or business angel, then these positions will already have been filled.
You must bear in mind that preparation is key when floating on AIM and you, your accountant and the team that you have put together will need to make sure that the company has robust financial forecasts and doesn't have negative reserves.
You might also like...