Reorganise Your Existing Credit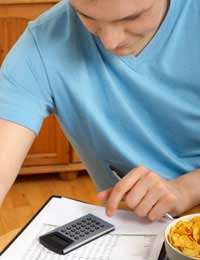 Credit has become a necessity in the everyday lives of most Brits with the average UK adult almost £4,500 in debt. But, this only becomes a problem if our finances become out of control.
It is vital to regularly review your finances, make sure you know exactly what is going in, and more importantly, what is going out.
Clarify your Credit
It is easy to let your financial situation spiral out of control, but rest-assured that there are ways to sort out your money worries allowing you to pull your head out of the sand and breathe a sigh of relief.
There are many advertisements on the television, even more so now that we are experiencing a credit crunch in the UK, offering ways to consolidate your existing credit.
Simply put, this means that you take out a new loan that will pay off all of your existing debts, giving you one monthly repayment.
This is usually a good idea for those who find it difficult to keep up with all their monthly repayments, or who have already started to fall behind, but there are things to take into consideration before you opt for this
Secured or Unsecured?
A secured loan uses your home as security against the amount you are borrowing. However, you must be very careful when taking out a loan like this, because if you default on the repayments you could lose your home.
People who opt for a secured loan are usually not in a position to remortgage or require a much higher loan than would be available from an unsecured loan.
An unsecured loan on the other hand offers no security to the lender at all. Because of this, unsecured loans aren't as big as those secured against a property, usually between £500 and £25,000 with a repayment period of three to six years.
When it comes to interest rates, those offered with secured loans are often lower but come with longer repayment terms, whereas unsecured loans have higher interest rates but are appealing because of their shorter repayment terms.
Keep your Eyes Peeled
If you decide to take out a secured loan, there are a few things that you should look out for.
First of all, you need to know exactly what you can afford to pay out each month. You should consult an independent financial adviser on your situation as they are better equipped to advise you on what type of loan you will need and over what term you should take it out for.
Be aware of comparison tables. These may be good to give you a general idea of what is available, but when it comes to taking out a secured loan there is a lot at stake so you will need to speak to an adviser. However, in saying this, there is no harm in arming yourself with information beforehand.
The most important thing to remember is to read everything thoroughly, it is there to protect you, and if you don't understand something then ask either your lender or financial adviser to explain it. DOn't sign anything you don't understand.
You might also like...