Your Credit Rating Questions Answered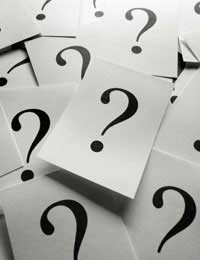 Confused about credit? Here are answers to some of the most popular questions relating to credit scores and ratings.
Q. What is my credit score, and how can I try to improve it?
A. Lenders use credit scores to calculate the level of risk that you will not repay what you owe. They use a mathematical calculation that creates a score based on your application and your previous credit history.
Each piece of information you provided is given a value, and each lender will base their lending decisions on an overall valuation that they set themselves. If your score meets their criteria, your application will be successful. If not, you will be refused credit.
Your first step towards improving your credit score is to make sure that your credit report is an accurate reflection of your personal circumstances. If your details are correct you will need to think about ways to improve your overall score, such as getting on the electoral register, paying off some of your debts or improving your repayment history.
Q. I don't have any credit cards or borrowings, so why should I be concerned about my credit rating?
A. Your credit report is the personal history that details all of the credit you have taken out over the past six years, from credit cards to personal loans to mortgages. However, your credit report also contains other important personal details about you, including county court judgements and your registration to vote.
Even if you don't plan on taking out any credit, your credit rating is still important. Other organisations such as employers and insurance companies, even prospective landlords, will base their decisions on a person's credit history.
It is therefore important to make sure that your credit report is accurate and up to date, as any errors could come back to haunt you if you ever need to make an application that depends on your credit history. Knowing what's held within your credit report can also protect you against identity fraud.
Q. My (now ex) husband ran up some large bills on his credit card during the course of our marriage. Now that we are divorced, I want to get his name removed from the mortgage deeds. What do I need to do to reclaim my own credit score and get my husband's details removed?
A. You and your ex-husband will be financially linked on each other's credit reports, until you no longer have a joint debt together, and until you ask the relevant credit agencies to remove his name from your report.
When you take out a joint application for credit, such as with a mortgage, the name of the other person will be placed on your file as a 'financial association'. You can add a 'notice of correction' onto your file, which will be present on any future applications for credit.
To remove someone's name from a mortgage or other secured loan, you will need to demonstrate that the debt has been repaid in full, or that you have undertaken a new mortgage or remortgage in your own name.
Q. Recently I made an application for interest free credit and was rejected. I've never owed any money in my life, so how can I be considered a bad credit risk?
A. There is only one way to find out what information has been viewed and has meant you have been turned down for credit. However, even if you obtain your credit score and you think it is good enough to have been offered credit, you may not be able to find out why your application was refused.
There are several reasons why you might have been turned down; some lenders are unwilling to lend to anyone without a credit history, which is a roundabout way of saying that sometimes the more you owe the more lenders are willing to offer you.
If you do not currently have or have never had any other credit accounts such as a car loan, student loan or mortgage, you will be considered what is referred to as having a "thin" credit file. This means there is not enough information to generate a credit score.
You might also find that the criteria required to obtain the interest free credit was so high from the outset, that not many people are able to meet it, and therefore they are 'encouraged' to take up less competitive repayment terms (at a higher profit for the company offering the credit).
You might also like...