Avoiding Credit Cards and Loans that will Harm Your Credit Rating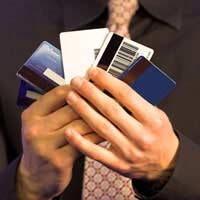 Personal debt in the UK has hit an all-time high, which means that we depend on the ability to borrow to get through day-to-day life.
Your credit rating is made up of your financial history, which is stored in a report held by credit reference agencies.
The information held includes previous credit agreements, like credit cards, loans, mortgages, your repayment history and whether you have ever missed payments, have outstanding debts, or have declared yourself bankrupt.
Lenders then calculate a credit score by using this information along with your application form. The credit score represents the risk that you pose as a potential borrower. The rule of thumb here is that the higher your score, the lower the risk is of lending to you, it also means that as a borrower with good credit you will have access to the best deals. The complicated thing with credit ratings is that every lender has different criteria, which can result in you having a different credit score. So, depending on who you apply to, what type of credit you want and what your present circumstances are, could mean that you are a high risk for one lender, but low risk for another. Your credit rating is never static. Every time you pay off a debt, or close a dormant account, your score will improve. Equally, if you miss payments or default on a credit agreement in some way, your credit score will be harmed.
This is true with any form of credit, there is no particular credit card or loan that will harm your credit rating. It is entirely your responsibility to keep up-to-date with your repayments, or your credit score will be affected.If you find that your debts are slipping out of your control, there are some things that you can do.First of all, make a list of all your borrowing - including any unpaid bills, money owed to family/friends and any outstanding credit card payments. Take into account your personal circumstances, and from your list work out which debts are the most important and need to be paid off first. Think about what steps lenders have already taken to getting the money back from you - final reminders, referred to debt collectors, - these debts need to be settled first.
Speak to the lenders if you foresee any problems settling the debt, they will be happy to work out a payment plan to help you get through this bad patch. After all, it is in their interest to help you. If you have a mortgage, or a loan secured against your home, make sure you put this towards the top of your list. Failing to repay this type of loan could result in your home being repossessed.
Once you have created your list, draw up a realistic budget. Start off by recording all of the money you have coming in, for example, your monthly earnings after tax or any pension or investment income.
Then list every amount that leaves your account every month. This ranges from financial products, such as your mortgage or rent, house insurance, gas and electricity and your phone bill to household costs such as food and leisure time or child maintenance.
Calculate and Accumulate
A simple calculation - incoming minus outgoing - will reveal how much money you will have left over each month to maybe put into a high interest savings account, such as an Individual Savings Account (ISA).
If a simple re-structure of your personal finances won't provide as much help as you need, the best idea is to get some personal advice. There are companies out there that offer to help clear your debt. However, these 'debt management companies' often come with very high fees so probably aren't suitable for your current situation.
There is Light at the End of the Tunnel
Also, don't ever be tempted to pay a firm who claims to be able to 'repair your credit history'. If you have been in debt and are sorting out your finances, the damage to your credit history will fix itself over time, paying someone to do it for you is a waste of money.
There is also the option of consolidating your existing debts. This means taking out one large loan to pay of all of your other debts, leaving you with one monthly repayment. However, be careful when considering this, and make sure you hunt around for the best deal. It isn't advisable to rely on this form of credit to get over any debt problems, so once your debts are sorted out, try your best to keep on top of your finances.
Over time your credit rating will improve if you stay on top of all your monthly repayments, and if you find your debts slipping out of your control once again, then simply follow these steps and sort yourself out.
You might also like...