Using a 'soft Search' to Protect Your Credit Rating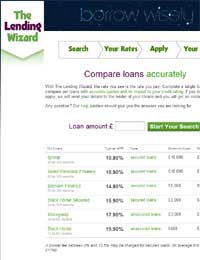 You may have already experienced the Catch-22 associated with applying for a financial product such as a personal loan. You want to compare the rates of different loan providers, but you know that if you make too many loan applications you could damage your credit rating and end up being refused the loan at the rate you want or, worse still, fail to get approved for any loan at all.
The problem of trying to obtain good loan quotations without spoiling your credit rating is a serious hurdle for borrowers trying to find the best deal. At present, borrowers run the risk of having their credit score impaired simply by shopping around for a good deal on a loan. This credit score damage could also prevent them from receiving competitive rates in the future.
Shopping Around is Not Always Wise
Each credit application leaves an imprint on a borrower's credit record, and because a credit file doesn't record whether the application was successful or not, it can appear that the would-be borrower was racking up multiple loans or was desperate for short-term borrowing, both of which are major red flags for lending companies. Many of whom do not need much of an excuse to refuse credit to customers.
The comparison website Moneysupermarket.com estimates that the number of unsuccessful loan applications has increased in the past twelve months, rising from around 32 per cent to more than 40 per cent, largely as a result of banks and other lenders tightening their credit scoring criteria and avoiding customers who make too many applications.
The Difficulties of Getting the Advertised Rate
Most lending comparison websites, base their tables of the best value for money loan deals on the typical interest rates advertised by lenders.
Lenders are required by law to offer their advertised interest rates to at least two thirds of borrowers. This requirement, however, only applies to those borrowers who are accepted for the loan.
Therefore, only a quarter of the people who apply for a loan will be able to get the advertised interest rate. More frustratingly, borrowers will only find out whether they are in the category after they have completed the application!
Soft Searches
A new loan comparison website, however, could solve that problem as it has been designed to allow browsers to search for personal loans at the rates they want from various lenders, but without leaving any negative imprint on their credit records.
Thelendingwizard works by helping prospective borrowers to undertake a "soft" searches loan companies through a credit reference agency. Unlike the "hard" searches used by banks for loan applications, these searches do not leave an imprint on an applicant's credit record.
What's more, the soft search still allows borrowers to see what loans they are eligible for, and more important, the rate they will be able to get when they apply directly to the lenders.
Borrowers who undertake a soft search for a loan can fill in a single application form, stating how much they are looking to borrowing and the length of the loan agreement. The applicant will also be expected to provide the regular application details, such as their salary, other incomings and their main outgoings.
Soft search companies will then take these details to retrieve a selection of quotes from their participating lenders. They can then inform the applicant whether they would be likely to be accepted or rejected based on the information provided, but without making a formal loan application.
Soft search companies are starting small, and with just a handful of lenders, but given the difficulties customers are finding with getting approved for a loan and at the advertised interest rate, the concept is set to gain considerable popularity with would-be borrowers. Soft searches could soon become the smart option for anyone looking for a personal loan.
You might also like...