Give Your Credit Score a Boost: New Year, New Rating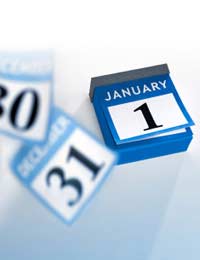 With credit looking increasingly difficult to obtain in 2009, it might be worth setting yourself a few New Year resolutions that will help you boost your credit score.
Check For Any Mistakes On Your Credit Report
When it comes to your credit report, a small error can have large repercussions. If a lender accidentally mistypes your address or postcode, this can change your report and could see you unfairly refused credit.
In order to prevent any errors cropping up, try to get your hands on a copy of your credit report at regular intervals, say, every three months or so.
If you spot anything that you think is incorrect, you should contact the lender directly, who should be able to record your dispute and make any necessary amendments. Most disputes are usually cleared up within 45 days.
You can help to reduce the margin for error on your credit report by making sure that all your bills are correctly addressed to you.
You should also make sure that names of previous occupants of your current address are on your credit score, as this can also have a negative impact on your overall rating.
Reduce Your Current Borrowings
In order to assess your credit worthiness, lenders will score you by assessing how much debt you currently owe, compared to the amount of credit open to you.
If they feel that this ratio is too high, then they will be more inclined to refuse a request for further credit.
In order to stop this happening, you should aim to reduce the balances of your debt as quickly as you can. If you can do this, your score should improve.
Be Selective And Realistic
You should try not to make too many applications for credit, and you should only go for credit agreements that you are likely to be approved for.
For example, do not apply to a credit card company if you have previously held a credit card with them in the past 18 months.
Try to be realistic. If you have recently missed any loan payments, you should allow yourself some time to improve your score before making another application. Too many searches on your report will not encourage lenders to offer you further credit.
Build A Good Credit History
Sometimes lenders are reluctant to offer credit to someone who they feel does not have enough of a credit history. If this is the case, you can improve your score by giving yourself a good credit track record.
You can do this by taking out a form of credit with a lower acceptance criteria (such as a store card or credit card with a higher rate of interest), and making sure that you pay off your balance each month.
In doing this, you will be able to build up a credit history from scratch and, in time, you will improve your credit rating in the eyes of the major lenders. However, you need to make sure that you avoid paying the higher rate of interest on these cards, by making sure you pay off any borrowings within the interest free period.
Taking these few simple steps to boost your rating should allow your credit score to gain a bit of momentum in 2009, and help to prove to lenders that you are reliable and trustworthy over the longer term.
You might also like...