What is Consolidating and Will it Help?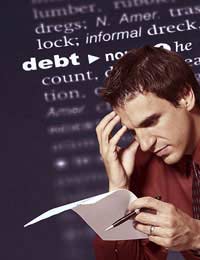 Brits live their lives by credit, with more now than ever before in an abundance of debt.
Most people have a combination of credit; personal loans, credit cards, overdrafts and even a mortgage, and many breeze through the repayments without difficulty. However, for those that are falling deeper and deeper into the black hole of debt shouldn't bury their heads in the sand.
Debt consolidation can help you out of debt by reducing your monthly outgoings and minimising the hassle of having to remember what needs paying and when.The method of consolidating your debts is simple. You take out a single loan that will cover all of your existing debts , giving you one monthly repayment. The trick is to make sure that the interest rate you are paying on the consolidation loan is lower than that you were paying on your existing debt – most of the time they are.
Shop around to get the best deal, the rates of consolidation loans vary from 5,5 per cent to around 20 per cent. Compare the Annual Percentage Rate, and make sure that you look into all the relevant charges that may affect you in the future.
Secured or Unsecured?
A secured loan uses your home as security against the amount you are borrowing. However, you must be very careful when taking out a loan like this, because if you default on the repayments you could lose your home. People who opt for a secured loan are usually not in a position to remortgage or require a much higher loan than would be available from an unsecured loan.
An unsecured loan on the other hand offers no security to the lender at all. Because of this, unsecured loans aren't as big as those secured against a property, usually between £500 and £25,000 with a repayment period of three to six years.
When it comes to interest rates, those offered with secured loans are often lower but come with longer repayment terms, whereas unsecured loans have higher interest rates but are appealing because of their shorter repayment terms.
However, if you are unable to get a loan, you must not be tempted to contact one of the companies currently advertising on the TV and radio that offer a loan despite your low credit rating. These firms often charge a hefty fee for the loan driving you further into debt, can cause damage to your credit rating and you could even lose your home.
Don't panic, all is not lost. There are places you can go to get debt advice for free. Your first point of call should be the Citizens Advice Bureau. They have a number of experts that can help you organise your current debts, talk to the various lenders involved and work with you to produce a suitable budget and repayment plan.
Don't ever be tempted to pay a firm who claims to be able to 'repair your credit history'. If you have been in debt and are sorting out your finances, the damage to your credit history will fix itself over time, paying someone to do it for you is a waste of money.
You might also like...