How does a Credit Rating Work?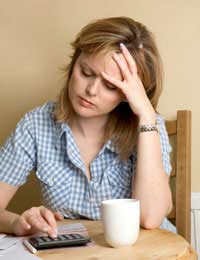 Applying for any form of credit may seem like an easy task from the outset, but in reality it can be very difficult and you could be refused as a result of your credit rating
It doesn't matter what type of credit you are applying for, a credit card, loan or mortgage, most lenders will make a decision on whether you are a suitable candidate based on the information held in your credit report.
Your credit report is compiled, held and supplied to lenders by two leading credit reference agencies, Experian and Equifax
The information compiled by these two firms is taken from many sources, including the electoral roll, past debts, county court judgements and any credit defaults.
Your report also records every check that is made by a lender. So, from buying a new sofa on an interest-free deal to getting a loan to do some home improvements, an electronic footprint is left on your credit report. The problem with this is that too many footprints can affect your rating and ability to borrow in the future.
A Little Bit of History
When applying for a form of credit, many people are under the impression that it is the credit reference agencies that decide whether or not to lend to them. This is not true, Experian and Equifax merely hold the information in a database. Equally, the belief that there is a credit blacklist of individuals or property is also false.
The decision to lend or refuse credit is made by the lenders based on their criteria. There is no universal scoring system for credit ratings, which means that while one lender may turn you down, another will gladly lend to you.
Your credit report is exactly that - yours, so if you feel it includes information that is incorrect, such as details of people that you have no financial connection with, you can have it changed.
You also have the option to add notes to your report to give an explanation as to why you may have defaulted on payments, for example.
However, you must remember that this report is a true reflection of your credit history, so you can't have something removed just because you don't like it, or find it embarrassing.
Making the Grade
Your credit score is calculated by lenders based on your credit history and serves to give lenders a better idea of how risky a borrower you will be.
Each lender has a different criteria, but the idea is the same. They award points based on information held in a credit report and the resulting score is then compared to other people with similar circumstances.
All of this information is then combined and the lender can 'predict' how likely a borrower is to repay a loan, or meet the monthly repayments on time.
The one thing you must remember to do is make sure you ar registered on the electoral role. Lenders use this to determine your identity, and many people are refused credit simply because they aren't registered to vote.
Can I See My Report?
It is very easy to get hold of your credit report, you can order it online at the Experian site or Equifa site. It costs a small fee, usually around £2, for your report to be posted to out to you.
You might also like...