Taking Steps To Learn How You Got 'Bad Credit'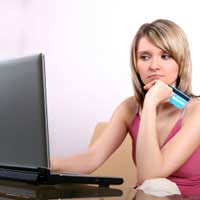 Your credit report is, effectively, your gateway to lower interest rates and better product deals, so it is important that you understand why you might be referred to as having 'bad credit'.
If you already have a poor credit rating, you will no doubt have been turned down for credit or currently be paying hugely inflated interest rates on the financial products you hold.The main credit reference agencies in the UK are Experian and Equifax, and it is advisable to regularly check with each of them.
The details of your financial history, from the day that you opened your first bank account, are all recorded in your personal credit report. This includes any loans, credit cards, overdrafts and mortgages, as well as any utility agreements, such as a mobile phone.
Every time you miss a payment, it is recorded and future lenders will combine all of this information to determine you credit rating and whether you are a suitable candidate to lend to, so it is up to you to keep your finances in order so that your credit rating doesn't suffer. When you apply for a loan, lenders want to see evidence of what kind of borrower you are, which is why this is usually the reason for people having bad credit. However, if this isn't the case for you, there are some other reasons as to why you might have a poor credit rating.
Just a few missed payments here and there shouldn't have that much of a bearing on your credit rating. However, if you consistently miss payments, or a have been deemed to have defaulted on any payment plan agreed with a lender, your rating will suffer some damage.
Lenders definitely do not want to see any County Court Judgements (CCJs) that have been filed against you. Having one of these will usually result in you getting turned down for credit, as will a bankruptcy notice.
There are two important points that you must be aware of when it comes to your having bad credit. Firstly, if your report has been searched multiple times within a short period of times, lenders will come to the conclusion that you are, what is commonly referred to, as a 'credit tart'.
On the other hand, if you have never used or successfully applied for credit then lenders will have no evidence to see how responsible a borrower you have been and your rating will no doubt suffer. Other things that can influence your credit rating, and can easily be fixed, include being registered on the electoral role or being financially linked to an ex-partner.
Being registered on the electoral role is very important when it comes to your credit rating as lenders use it to determine your identity - they compare it to the information you supplied on your application form.
It is very simple to register your name on the electoral role if you haven't already. Simply visit www.aboutmyvote.com and fill in the form. If you are unsure then give your local council a quick call, they will be able to tell you whether or not you are registered to vote at your current address.
You might also like...